Case Study - Technology Company
Introduction
DineDesk is a comprehensive Front of House (FOH) management solution designed to streamline operations and enhance customer experiences in the restaurant industry. This case study explores the key deliverables of DineDesk's go-to-market strategy, digital marketing efforts, social media marketing, and sales initiatives.
Our Offerings
GO TO MARKET
To effectively launch DineDesk in the market and gain a competitive edge by targeting key customer segments.
DineDesk identified its primary target market as medium to large-scale restaurants, chains, and hospitality groups looking for a comprehensive FOH management solution. This included fine dining establishments, casual dining chains, and quick-service restaurants (QSRs).
DineDesk positioned itself as a solution that could streamline FOH operations, optimize table management, reduce wait times, improve customer satisfaction, and increase overall operational efficiency. The key value propositions included enhanced reservation management, waitlist optimization, table analytics, and customer relationship management.
To strengthen its market position, DineDesk formed strategic partnerships with reputable restaurant technology providers, point-of-sale (POS) system vendors, and reservation platforms. These partnerships allowed seamless integration with existing restaurant systems, enhancing the overall value proposition for potential customers
Our Offerings
Digital Marketing
To create brand awareness, generate leads, and drive customer engagement through various digital marketing channels.
Our Offerings
Social Media Marketing
To build an active social media presence, engage with the target audience, and increase brand awareness.
DineDesk identified key social media platforms such as Facebook, Instagram, Twitter, and LinkedIn to reach its target audience effectively. Each platform was leveraged differently based on the nature of the content and the audience's preferences.
DineDesk developed a social media content strategy that included a mix of informative posts, engaging visuals, customer success stories, and interactive polls. The content aimed to showcase DineDesk's capabilities and generate interest in the solution.
To amplify its reach and credibility, DineDesk collaborated with influencers in the restaurant industry, including chefs, food bloggers, and industry experts. These partnerships helped increase brand visibility and attract a wider audience.
Our Offerings
Sales
To convert leads into paying customers and drive revenue growth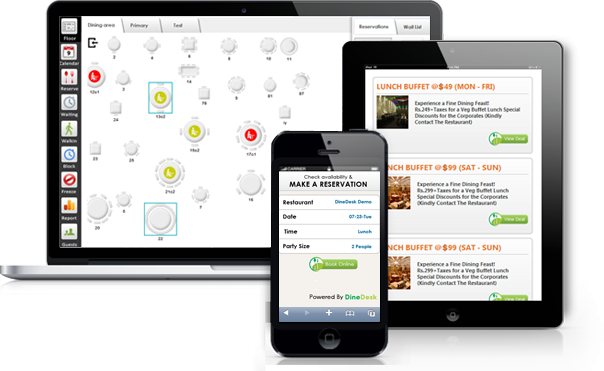 What our client says
Clients Testimonials
We immensely appreciate our clients vis à vis business partners showing trust in us and allowing us to understand their problems to help us identify the right solutions to eradicate their business disorders.
We love to listen your challenges
Reach Us